Ski Bowl Trails, Map – Mountain Biking
Ski Bowl Trails, Map.  Enjoy 20km of mountain bike specific trails all located in North Creek's Ski Bowl Park.  Parking is at The Ski Bowl (near the pavilion and baseball field), with additional parking behind the North Creek Town Hall on Main Street across from Tannery Pond Community Center.  Use the trail map below or print out a hi-res pdf below.
Garnet Hill Mt. Bike Trails  |  Gore Mt. Mt. Biking

Scroll Down for more Maps and Video!
NEW! Trails Interactive Map from Adk. Atlas, Scroll Down or CLICK HERE!
Printable (pdf) Ski Bowl Trials MapAdditional Ski Bowl Trails Map
Adirondack Atlas, Click the Map to Activate
Ski Bowl Park, North Creek, NY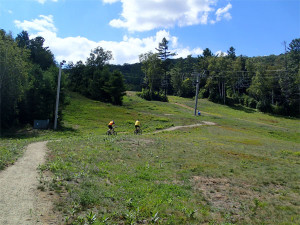 The North Creek Ski Bowl often called "Little Gore" is just a stone's throw from downtown North Creek.  Summer trails include a complete Mt. Bike Trail System and hiking trails including the Schaefer Trail.  Swimming, Picnic Facilities, Restrooms, Kids Playground, Tennis and Baseball diamond.