Revolution Rail – Rail Bike Tours – 2 Trips in North Creek!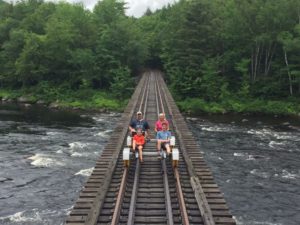 What is Railbiking?
Railbiking with Revolution Rail Co. is a fun excursion activity that allows riders to ride the railroad tracks under their own power and explore a section of the Adirondacks that has never seen passenger traffic.
Once railbikers check in at the historic North Creek Railroad Station, they'll take a short shuttle ride 5 miles north of town to the tour launch point. After a short safety briefing, the tour guides will lead the railbikers further north on a 6 mile round trip cruise.
New, the South River Run takes riders south right out of the North Creek Railroad Station for a 9 mile out-and-back trip. Riders on the South River Run enjoy varied rolling terrain, hug the Hudson River shoreline for large sections of the ride, and enjoy a number of incredible vistas of the Hudson River.  Spring/Summer 2023 begins May 5th!  Additional trips in Thurman/Stony Creek and Hadley – info on the website, link below. 
RevRail is licking off our 2023 railbike season on May 5th in Thurman and Hadley, and May 6th in North Creek, running 2 hour trips on the North Bridge Trip on Saturdays and Sundays.  The South River Run will open May 20th.  Starting in June, we'll also be running on Friday's here in North Creek, and will begin running 7 days a week on June 16th.  We also will be offering Rails to Rivers trips! This is a railbike trip, followed by tubing down the Hudson with Beaver Brook and Adirondack Adventures. This will start June 24th.
Revolution Rail Website

Revolution Rail Co.
3 Railroad Place, North Creek, NY 12853
518-251-2345
Revolution Rail Company
Revolution Rail Co.
3 Railroad Place, North Creek, NY 12853
518-251-2345