Crane Mountain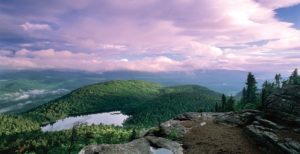 Crane Mountain is a challenging but rewarding loop hike with gorgeous views in all directions. The scenic pond offers a number of primitive camping sites, along with fishing and swimming.  Explorers can also find a cave near the Putnam Farm Road trail junction.  The summit trail features two ladders, a longer one and a shorter one, which are sturdy and are bolted to the rock, but may be too difficult to be climbed by dogs. The summit can also be reached from the other direction to avoid the ladders.  To avoid the ladders hike to the pond first then on to the Summit.  Difficulty:Challenging  Elevation Gain: 1384′  Length: 3.1 mile loop  Time to Complete: Half day 
Scroll down for maps and links.
Pictured above is Crane Mt. Pond from the Summit.
Click the Map to Activate Control
All Trailheads Click the Map to Activate Control