Dining, Entertainment, and Event Updates Thru Jan, 2023
Great Events Coming Up!  Click For More Information.  Scroll down for Live Music Schedule!
All Events – CLICK HERE
---

New!  Chef Jake is now at Izzy's Market for Breakfast and Lunch!  Chef Jake's take out is proud to reopen Izzy' Market & Deli on Main St in North Creek NY. He serves up delicious home made food in the heart of the Adirondacks. at Izzy's Market & Deli Open Friday through Tuesday 8AM-4PM  |  518-251-3000
New Hours for November!  Open Friday-Sunday, 8am-3pm.  (Closed Mon-Thurs)
---
cozy winter vibes at barVino. 
small plates. wine. beer. 
art exhibit. live music. trivia
Enjoy delicious, seasonally-inspired dishes with curated wine and beer lists. Perfect for after a day on the slopes, a dinner date, or cozy evening with friends.
Winter Menu on Facebook 

Visit our Instagram for events! @barvino  |  Winter Hours:Wed – Sun 4-9pm  | 
Open Daily for World University Games! 
Wine and Craft Beer  Hours:  Wed: 4-8PM with music Select Wednesdays from 6-8PM
Thurs: 4-8PM, Friday: 4-9PM, Saturday: 4-9PM.
272 Main St, North Creek, NY 12853  |  website  |  (518) 480-8697  |  [email protected]  |  Get Directions
---
Basil and Wicks
Updates – Visit the Website – Click on Weekly Happenings or Visit the Facebook link below
New Chef – Bill Trudsoe –  reopened as a full service restaurant and bar!
Open Daily – Closed Tuesdays

3195 State Route 28, North Creek, NY 12853.  518.251.3100
basilandwicks.com

More Basil Info Including NEW! 2023 Menu CLICK HERE
---
becks TAVERN has a German-inspired menu and full bar. Located right next to the Gore Mountain Lodge at the base of Gore.  A yurt complex with a bar and apres ski environment, including live music Friday through Sunday.
Beck's is THE Place for live entertainment!
becksTAVERN is OPEN 3 days a week, Friday to Sunday, Noon to 9 pm.
Live Music Schedule:
Fridays in the Yurt for January:  6th Jan, Old Soul, 6-9 pm  |  13th Jan, Wayward Folk, 6-9 pm
20th Jan, Micah Scoville, 6-9 pm  |  27th Jan, Dazey, 6-9 pm  |  3rd Feb, Storm Windows, 6-9pm
---
Saturday's in the Yurt for January  7th Jan, Margo Macero Duo, 5:30 to 7:30 pm  |  14th Jan, Mark Tommasone, 2 to 5 pm
14th Jan, DJ B Train Dance Party, 6 to 9 pm  |  21st Jan, Kringewurthy, 5 to 8 pm
!!! Beach Party !!!  28th Jan, The Willie Playmore Band, 5 to 8 pm  |  4th Feb, AbyWst, 5 to 8 pm
---
Sundays in January!  There might not be LIVE music, but the yurt is open to enjoy!
Exception, MLK Sunday Jan. 15, Far Trio playing 2 to 5 pm!
Specials at becksTAVERN:  Every day open, happy hour 4-6 pm, $1 off drafts.
More Becks Tavern Info CLICK HERE!  |  See Beck's on Facebook here
---
Breakfast is available daily from 8 am to 10 am to lodging guests only.
Daily lunch and dinner is back at The Log House Restaurant!
The Bobcat Bar & Grill, on the second floor of the Garnet Hill Outdoor Center, is now open for the winter season! Serving up delicious favorites like pizza, soups, and more, the Bobcat is the perfect place to warm up throughout the day while skiing on our trails. Refreshing beverages like local beers and wines are also available. The Bobcat is open every Saturday from 11:30 am until 6 pm; and Sunday from 11:30 am until 4 pm.
Beginning Wednesday, Dec. 21, the Log House Restaurant is back open for lunch and dinner daily.
More Garnet Hill – Log House Restaurant  Information CLICK HERE
---

North Creek Lodge at Gore Mountain (Formerly The Black Mt.) –  Our 58 seat restaurant has that old school mountain town feel to it. With hardwood floors, a stone fireplace and a rustic live edge bar, you will feel like you are in the North woods.  Hours will be M, Th, F 4-9; Sat & Sun 12-9.    We will be open Friday December 23 4:30 -9:30, Saturday December 24 4:30-7. We will be closed Sunday December 25 and reopen Monday December 26 4:30.  CHECK OUT OUR NEW MENU!!
North Creek Lodge at Gore Mountain  |  2999 New York Rt.8  North Creek, NY 12853  |  Mon, Thurs, Fri 4-9pm.  Sat/Sun 12-9  518-251-9937  |  [email protected] |  Website  |  Get Directions
---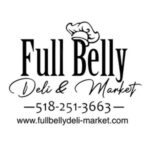 FULL BELLY DELI & MARKET
Full Belly Deli is located in Wevertown, NY, four miles from the base of the Gore Mountain. Servicing breakfast and lunch, Full Belly is conveniently located on the corner of New York 28 and Route 8. Please check out Full Belly Deli & Market out on facebook For Daily Specials each day
2378 NY Rt. 28 Wevertown, NY 12886 | [email protected] | 518.251.FOOD(3663) 
 More Info Here! 

Online Ordering CLICK HERE!

---
Live Music! 
Beck's Music Schedule CLICK HERE! All Events Including Tannery Pond Concerts CLICK HERE

---
Hey Days Restaurant – Pizza, Wings, More  |  267 Main Street, North Creek  |  518-251-4448
Full Belly Deli, 2378 State Route 28, Wevertown, NY 12886  |  518- 251-3663
Trappers Tavern at Phoenix Inn, 307 Main St, North Creek, NY 12853  518-251-0111    
Barking Spider Bar/Restaurant, 302 Main St,  North Creek, NY  |  518-251-9911 (Temporary, No food)
Cafe Sarah Bakery Restaurant, 260 Main St, North Creek, NY 12853  |  518-251-5959
Marsha's Family Restaurant 268 Main St, North Creek, NY 12853  |  518- 251-5750
The Hungry Crow, 290 Main St., North Creek, NY Open Daily 10-5  |  518.251.4461

Adirondack Spirits Liquor Store (in the Tops Plaza, Main Street, North Creek) 518-251-3898
Hours:  Mon – Thurs: 9:30am – 8pm.  Fri – Sat: 9:30am – 9pm.  Sun: 12pm-6pm
The Cellar Wine Shop, 274 Main Street, North Creek, New York 12853 | [email protected]