Cedarwood Bed and Breakfast
Currently Closed

Cedarwood Bed and Breakfast (ca. 1880) is tucked away between Gore Mountain & the Hudson River on a quiet country road in North River.
We'd like to offer you a peaceful place to rest while visiting this 6 million acre parkland called the Adirondacks.  Cedarwood has been renovated while maintaining the history and integrity of house.  If you've not heard the buzz about the food prepared at Cedarwood you should visit TripAdvisor to read what the good folks are writing about us. We feed you with the understanding that you'll be making some physical demands on your body and use the freshest & healthiest ingredients possible while at the same time keeping it creative and yummy.  After your long day exploring the Adirondacks there will be homemade goodies awaiting your return along with a nice selection of loose teas.  Gore Mt. 7 miles  |  Whitewater Rafting – right down the road 1 mile!
Cedarwood Bed and Breakfast  |  140 Schoolhouse Rd, PO Box 75  |  North River, NY 12856 
518-251-5575  |  Cedarwood@frontiernet.net  |  Website  |  Get Directions

Cedarwood Bed and Breakfast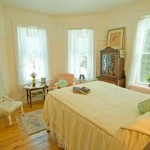 Cedarwood Bed and Breakfast
140 Schoolhouse Rd, PO Box 75  |  North River, NY 12856 
518-251-5575  |  Cedarwood@frontiernet.net  |  Website  |  Get Directions